In 2002 (August 7th) Mr. Kristinn Magnússon became the second man in history to swim across Lake Þingvallavatn.
The swim across Lake Thingvallavatn was my final training swim before my swim to the Vestmannaeyjar islands in the summer of 2002. During that year I swam to Engey island, Viðey island, across Hvalfjörður fjord, to Drangey island and across Lake Thingvallavatn but I had to postpone my swim to the Vestmannaeyjar islands due to bad weather conditions.
I began my Lake Thingvallavatn swim from Nesjavellir, unlike Fylkir, to be the first to swim north across the lake. I made good progress to begin with until I was about half way across the lake.
Then I encountered a strong oncoming current from the depths which took a lot of effort to overcome. I was overturned by wave action a few times. At last I reached shore at Mjóanesoddi.
The Lake Thingvallavatn swim was the toughest and most pleasing open water swim that I have ever swam in crystal clear, good tasting water. The swim was a awe inspiring experience that I will never forget.
I want to thank Mr. Hrafnkell Marinósson and the Hafnarfjörður Rescue Service for their assistance during the swim.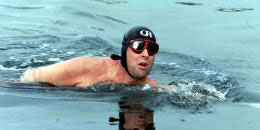 Kristinn swimming in lake Thingvallavatn.