In 2012 (August 25th) Mr. Kristinn Magnússon, Mr. Árni Þór Árnason, Mr. Hálfdán Örnólfsson and Mr. Benedikt Hjartarson swam across Lake Thingvallavatn. They started from the Mjóanes peninsula and landed in Riðvík 5 km. away. The swim went well, in spite of somewhat heavy side waves most of the way.
The temperature of the water was about 11.5 °C. Mr. Hálfdán Örnólfsson was the first to arrive at Riðvík with a swimming time of 1 hour and 40 minutes and the other swimmers joined him one by one over the next 10 minutes.
The open water swim across Lake Thingvallavatn is called the Thingvallasund and it is a dream come true for many swimmers. Only five people have ever completed it. Mr. Fylkir Þ Sævarsson was the first to do so in 2001 and Mr. Kristinn Magnússon completed it the following year in 2002 and now again in 2012.
The Thingvallasund was listed as number 17 in international listings of the top 100 most interesting open water swims in the world. See the Worlds Top 100 Open Water Swims.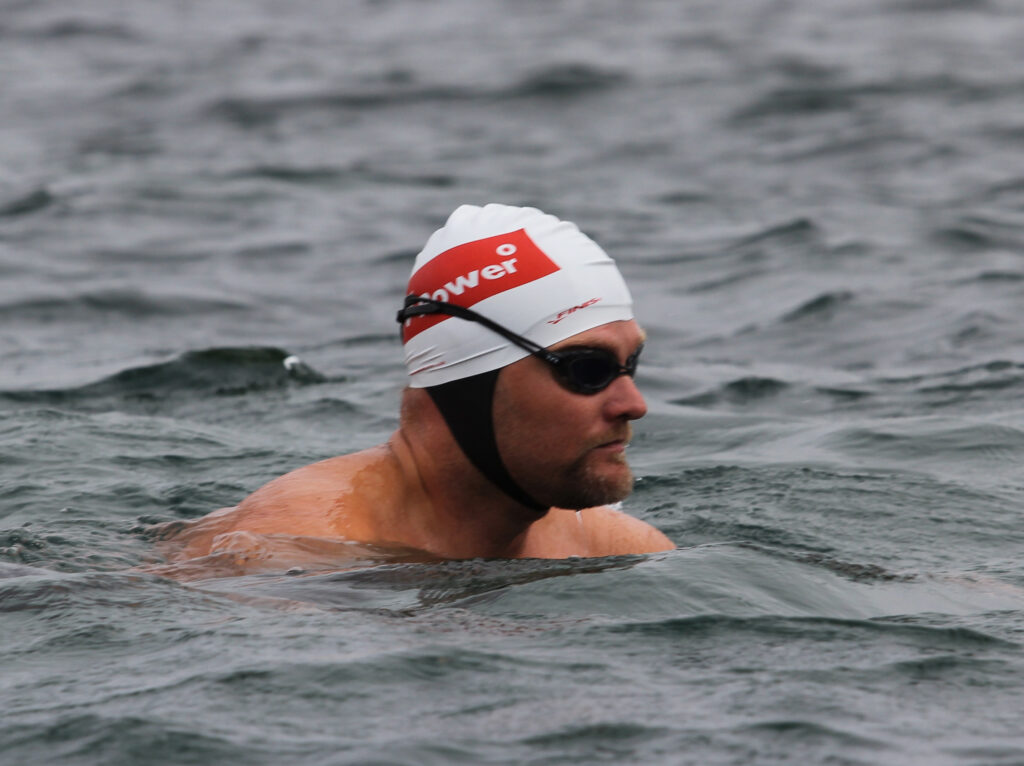 Mr. Árni Þór Árnason (1969).
Impression:
"Swimming in one of the most spectacular national parks in the world touches you. Pure nature and clean water – an extreme experience to do this swim in the company of good friends :-)."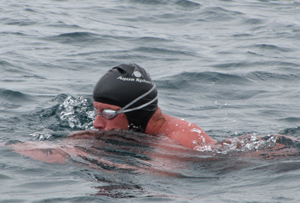 Mr. Benedikt Hjartarson (1957).
Impression:
"The Thingvallasund is very different from swimming in the sea. When swimming in the sea the waves will lift the swimmer. In fresh water the waves hit the swimmer without lifting him. It is therefore more likely to swallow water. My experience was that of learning to swim in fresh water. I had on a floating neoprene cap which was a mistake.

The cap lifts the head and prevents an optimal head position for Freestyle. For this reason, I swam breaststroke for half of the way which is not my swim style and is more time consuming. This was still very enjoyable and it is always exciting to try new places."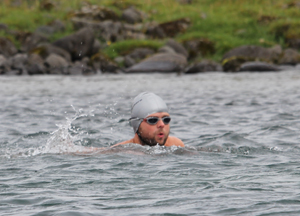 Hálfdán Freyr Örnólfsson (1973).
Impression:
"Absolutely amazing! I saw the bottom for a few meters and then there was just the abyss. I felt really good during the swim and I ate some energy gel twice on the way. I kept a good pace all the way, despite the side waves and when I saw the bottom on the other side I cried tears of victory. It was a completely indescribable feeling. I was overwhelmed and I felt like I was doing the impossible, since my body fat % is quite low :))"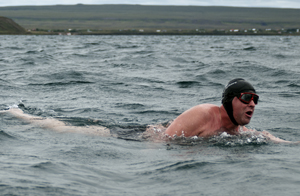 Kristinn Magnússon (1967).
Impression:
"What did it feel like to repeat a 10 year old experience, but now in the opposite direction. To experience a swim without nutritional intake, to get leg cramps and work through them. To experience group swimming, see the experience of the other swimmers and enjoy having sold them the idea to join me.
This time around, nature seemed more intense, stronger, and I felt the pull of the water. Last but not least, I experienced security in the escort across the lake and the joy when I finally saw all the swimmers on the other shore pleased with their accomplishments. Overall, this swim was easier now than it was 10 years ago."